Content warning: Suicide + suicidal ideation
Every year, I write a post for World Suicide Prevention Day (WSPD). The post is typically centered around To Write Love on Her Arms' WSPD campaign theme – a theme built around a statement or phrase they believe in with the goal of starting a conversation around mental health, mental illness, suicide and suicide prevention.
From the moment I hear that campaign theme, I instantly immerse myself in it by watching the videos, setting up a fundraiser, reading the blog post(s) and buying a World Suicide Prevention Day pack. I feel so much connection to the campaign theme that I just want to share it with the world. But more importantly, I want to spread awareness around suicide prevention and share a message of hope for those struggling.
Every year, as I think about what I want to write in my own blog, my mind races with thoughts, feelings and intense emotions. I always find myself with so much to say that I likely spend more time editing the post than I do writing it.
But this year is different.
As with previous years, I watched the campaign videos, read the blogs and purchased the WSPD pack – this time, before it was on sale to the public. I even took part in TWLOHA's WSPD campaign launch event. As I watched the first video and then listened to everyone speak about the theme with such passion, I cried. But not because I felt connected to this year's theme.
I cried because I felt so incredibly disconnected. And it was heartbreaking.


TWLOHA's World Suicide Prevention Day campaign theme + why I felt disconnected
This year's To Write Love on Her Arms WSPD campaign is Worth Living For.
Inspired by the poem "It's All Worth Living For" by Levi the Poet, the campaign is centered around the idea that even when life doesn't go as planned (I'm looking at you, 2020), there are still things worth living for.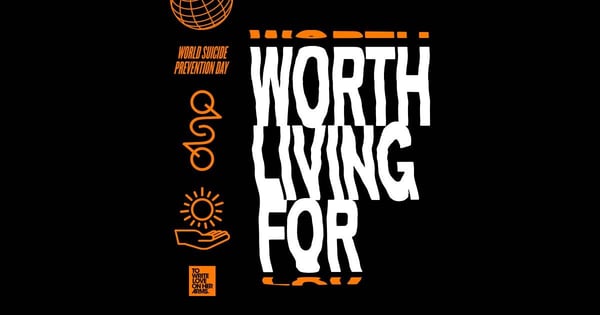 The campaign theme is beautiful and perfect for the season of life we're in. If you haven't read (or listened to) Levi the Poet's poem yet, do it now. You won't be disappointed. And if you're anything like me, it'll give you chills, put a smile on your face and bring you to tears all at the same time.
If I believe that the Worth Living For campaign theme is perfect and the poem brings me to tears, then why do I feel so disconnected to this year's campaign theme? And why has this post been so hard to write (and publish)?
I'm about to get open, honest and raw with you for a moment.
I feel disconnected to the campaign theme because lately, I've struggled to find things in life worth living for – to the point that most days, I don't want to live.
For the past nine months, I've been battling some of the darkest thoughts I've ever dealt with in my entire life. Most days, I don't see the point in fighting a battle that feels impossible and never-ending. I don't see a light or even a flicker at the end of the tunnel. I struggle to find joy in life.
But perhaps the most heartbreaking part of all is that I wholeheartedly believe the world would be a better place without me in it.
For nearly two decades, doctors, therapists, friends and family have always told me things like:
It will get better. You won't always feel this way.
You'll find a medication that will work for you and that your body can tolerate.
The outpatient program at McLean will really transform your life.
ECT has such a high success rate. It'll work for you. I know it.
Therapy will help you to work through your trauma, and you'll start to feel better.
Trust me: It won't always be like this. You won't always feel so much pain.
Well, guess what? Nothing is working. I've been on so many medications I feel like a human lab rat. Every single thing I try ends up failing – and it makes me feel like I've failed. That the reason nothing is working is because I'm broken and far beyond saving. Every day I wake up, I wonder why I'm fighting so hard for a life that never seems like it's going to get better.
Most days, I don't believe my life is worth living for. I struggle to find the good in life, and with all I've been through – especially in the past couple of years – I no longer believe that things will get better. And if I'm being honest, I don't think anyone would care if I ended my life.
But then I go back to TWLOHA's World Suicide Prevention Day blog. And I re-read the part where it talks about connection. That it's hard to convince someone that life is beautiful because we can't control what someone else feels. But we can show up and keep showing up. We can choose to care. We can choose to remind others – and even ourselves – that through the good, the bad and everything in-between, that there's so much in life worth living for.
And I start to wonder: Maybe there are things in life worth living for after all.
I don't always believe that things will get better, but I do have moments where I find things in life that make it all worth it. And when I think of one, I write it down. It's my hope that in the years to come, that list will grow, and my desire to live will grow with it.
I'm living for...
My dogs Hendrix, Khaleesi and Benny – and all the love, snuggles and kisses* they give (*they don't kiss me. they sneeze in my face)
My niece, nephews and fur-nephew
My sister and all the memories we've created and have yet to create
My family – parents, grandparents, aunts, uncles, cousins
Chocolate peanut butter ice cream
Dunkin' iced coffee
Jelly donuts
Krispy Kreme donuts. All of them.
Red velvet cake
The moment where you open your box of Dunkin' munchkins and all the flavors are included
Fall mornings where you can smell the cool, crisp air
Picking apples, finding the perfect pumpkin and playing in the leaves
Putting up fall decorations when we're still in the middle of summer
Leaving your Christmas decorations up all year long...because why the heck not?
Standing on the sidewalk as the snow falls, watching each perfectly unique snowflake land on my jacket
Getting caught in the rain without a jacket
The hope that one day, things will get better and I won't always feel this way
Help – and believing that there are people out there who want to help, who will help save my life and who will help change my life
How I'll continue to move forward when life doesn't feel worth living for
Normally, I'd end this blog with an inspiring message about how I'll find ways to keep going even when life feels impossible. But I can't do that this year. Not in this post, at least.
Because the truth is: I have no idea how I'll keep moving forward when life doesn't feel like it's worth living for.
I have no idea how I'll get out of bed on days when everything feels like it's just too much.
How I'll push through the panic attacks I experience at work. How I'll cope with the crippling anxiety that causes me to shake and scream and cry. The anxiety that causes my heart to race to the point I feel like I can't breathe.
How I'll survive the heartache, depression, intrusive thoughts, anxiety, stress, struggles, painful memories and overwhelming emotions – especially if we realize medication (and maybe even therapy) isn't the right option for me anymore.
I have no idea how I'll cope when my world starts crumbling and I have no hope left. How I'll fight the constant suicidal thoughts telling me to give up.
I don't know if my list of things I'm living for will ever be enough to keep me alive – especially when the pain gets to be too much and the hope that lives inside of me starts to crumble.
But what I do know is this: I've been through hell and back over and over again. And I'm still here. Still breathing, still fighting and still giving the voices in my head a giant middle finger and a big "f*ck you" when they tell me to end it all.
Far too many people lose their lives to mental illness and suicide every year. And while I can't guarantee I won't be part of those statistics one day, what I do know is that I'm going to fight like hell to stay alive and keep this disease from winning.